Add a quiz to your Facebook feed
This Facebook marketing post tells you how to promote your business with an entertaining quiz in your Facebook feed. The first part of this post will actually be a review of the Quiz and Survey Master WordPress Plugin.
Note that the word "entertaining" is highlighted. That is because Facebook is a social media. If you are using this quiz to promote your business, that must be a secondary property. If the quiz is not primarily entertaining, expect people to stop reading your posts.
The quiz you see in the picture has 15 questions. You can see the actual quiz here. Only one question is of a commercial nature.
How to add a quiz to Facebook
In order to create the quiz, you will need a WordPress plugin called Quiz and Survey Master. The instructions on this page will not help you much at all unless you are using WordPress.
Today's WordPress site shows that Quiz and Survey Master has 433 reviews. 398 of them are 5 Star reviews.
Today's sample quiz has geographical questions about the area in which your business resides. For Facebook marketing purposes, you may ask ONE question that promotes your brand by forcing people to go into your business website to get an answer. The other questions should not be related to your business.
Other questions should be entertaining. Questions in the sample quiz are aimed at visitors to the Okanagan Valley. You can see the sample questions here. To write the quiz you will make radio button multiple choice questions by adding 3 wrong answers to each right one.
Look at the Okanagan Valley Quiz now.
Getting started
In your dashboard, click Plugins > Add New. Insert "quiz and" into the

Search Plugin box. You will see the QSM logo

beside Quiz and Survey Master. Click Install Now and then
Activate. Quizzes/Surveys will show up near the bottom of your black column.
Click on Quizzes/Surveys in the
black column. Another Quizzes/Surveys shows up. Click on it. Towards the top of the page you will see the name of the panel, Quizzes/Surveys. Click the Add New button beside it.

You will now begin to add questions and four possible answers to each question. You insert the question into the large box at the
top. Below that you will give 4 different but related answers. Put a check mark beside the correct answer in the Correct Answer column. In the example above the correct answer is 270km.
Quizzes/Surveys
After you have added your questions and answers, you edit the options. Read over the basic settings page. Click 0n Quizzes/Surveys in the black column and then the other Quizzes/Surveys link. It will give you the names of the quizzes you have created.
Notice that each quiz has a different shortcode. If you insert the shortcode into the visual view of a post you are editing, that will become the entire quiz when you view the saved page.
Click Edit underneath the name of the quiz you wish to edit. That will give you a set of tab links.
In this post, we are talking about a multiple choice quiz with radio buttons. You will click on the Add Question tab, type your question and then click the Add New Answer button. You will add 4 answers for each question. You will click the check box beside the correct answer.
Do what the Basic Settings page says and go to the next link as suggested at the bottom. Whenever you are finished a page, go to the Next link at the bottom.
Below is a list of the tabs that were important for the creation of the Okanagan Valley Quiz used in our example.
Questions
Much of this is discussed several paragraphs above this one. Three things were not mentioned:
After you have added your question & 4 possible answers, click the blue Create Question button to save it.
Three lines above that button is a line called Question Order. Click on the right end of the line and a set of dropdown arrows shows up. Use that to
change the order of the questions.
To delete a question, click on a question and then click on the red Delete button.
Text
Use this tab to add text before and after your quiz. There are a couple dozen variables with percentage (%) signs on either end.
The beginning of our sample quiz said, "Welcome to your 15 Question Okanagan Valley Quiz". "15 Question Okanagan Valley Quiz" was the variable represented by %QUIZ_NAMES%. To add that opening line, I typed "Welcome to your " and then copied & pasted %QUIZ_NAMES% right after it.
Options
Read each option and make changes as you wish. In the section about Facebook & Twitter Shares, click the No radio button.
Do not forget to click the blue Save Changes button when you're done.
Results Pages
This page will help you with your Twitter & Facebook marketing. Add variable to allow you to share on Facebook & Twitter. You might want to add something like Click to add your results to your %TWITTER_SHARE% page.  This could be follow in the same panel by Click to add your results to your %FACEBOOK_SHARE% page.
Click the blue Save Results Pages button.
Add quiz and begin Facebook marketing
Add your Shortcode to the WordPress post on which you wish to have the quiz. The Shortcode will have qsm and the quiz number inside square brackets.
Do the quiz once yourself. After you are finished, click the share on Facebook link. You may want to edit that post to make sure that people see how to take the quiz. If you are serious about Facebook marketing, you will also want to let people on one of your Facebook Pages know about the quiz.
Other social media
As well as Facebook marketing, you will want to add posts to Twitter & Instagram. Make sure those posts have good hashtags. Make sure the posts get people enthusiastic about taking the quiz.
Support
If the question below is not your problem, you can find support here. Note that the creator of this app is very busy. It could take a day or two to get an answer.
Q. My timer stays at zero after I refresh the page. So, the radio buttons are greyed out and I cannot do the quiz.  What should I do?
A. You should clear your cache. Read how clear the Google Chrome cache. For other browsers you'll have to do an online search.
The plugin stores the timer info in your browser cache to prevent users from continuously closing and opening new tabs to reset the timer when filling out exams. However, you should still be able to submit the quiz once the timer hits zero.
Q. I'm answering my own quiz. The results page says that I got fewer right than I really did. What's wrong?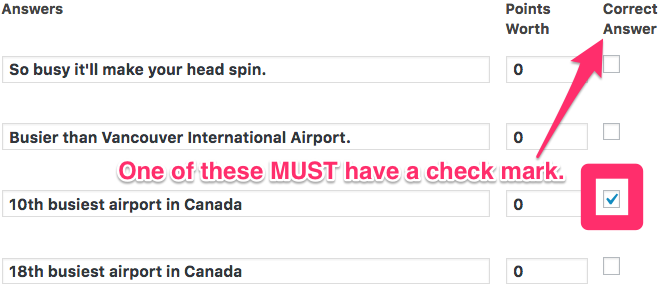 A. In all likelihood, the check mark is missing beside some of your correct answers. So, in the Quizzes/Surveys link in your dashboard, click on Questions and then click on a question to find the edit link. Scroll down to the answer and make sure a check mark is beside each correct answer. If you made a change for any one question, click the Save Question button.
More information
To see lots more information about Quiz & Survey Master plugin, go to their documentation page.
---
Peter Enns has been developing websites since 1996. As a VA (virtual assistant), he specializes in new website development, researching and writing blog posts and creating videos for YouTube and as animated GIFs. He is a social media blogger and author of the free YouTube video-creation tutorial called 7 Day YouTube.