(Last Updated On: September 6, 2019)
Free music online from YouTube
The YouTube website has free music online for you to use in your YouTube videos.  It has over 50,000 online music clips that you can filter by genre and mood.
Find free music online in 6 steps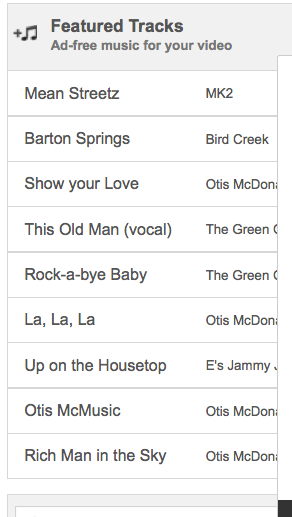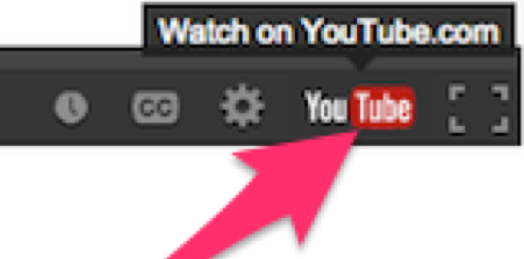 1. Go to your own YouTube channels.
2. If you already have a YouTube video on your website, you can do this by clicking the tiny YouTube icon at the bottom of your video.


3. Click on the blue icon in the upper right-hand corner.


4. Select a channel and then click on Creator Studio. Click on Edit > Info and Settings. (If you are having trouble with the above instructions, simply go to the help menu at the bottom of a YouTube page.  Search for free music and go to the audio library).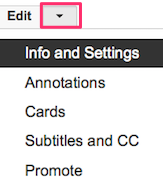 5. Among the tabs at the top, click on Audio.


You will find a list of songs.  Click on any one of them to hear it.
You can click on the dropdown arrow at the top to find the different genres of music.  You can search over 50,000 songs by genre.  Once you have your genre, you can click on the mood you would like.  For instance, you can create a list comprised of nothing but happy, cinematic songs.<



Note: From time to time YouTube changes their software around and instructions do not work.  If the above instructions no longer work, open one of your accounts and find the list of all videos in that account.
Scroll down to the bottom, click on the "help" button and search for free music.  You will end up with a link talking about their free music library.  Simply follow the instructions.
Earn a percentage of the selling price for every book sold.
Downloading your free background music

To download your free background music, keep your list of songs open.  Then start your ScreenFlow screen capture/video editing program.  Note that the music will stop playing as soon as your video stops.  So, if your new YouTube video is quite long, have an equally long YouTube video playing while you are recording the music.
Keep music soft while speaking
While someone is speaking in your video, you want the music to go soft.  Then it will go louder after the speaking stops.  To learn how to do this, go to the ScreenFlow ducking tutorial.
Artificial intelligence composing music
On the Jukedeck website, artificial intelligence will compose free music for you. As long as you credit Jukedeck properly, you can use the free music in your videos.
Slide summary of page
Pages related to free background music
25 websites with free music online
The About Entertainment website says
If you're looking for the best to stream free music online, I found 25 great options for you to choose from.  Read more.
---
Peter Enns has been developing websites since 1996. He is a social media blogger and author of a free YouTube tutorial. It's called 7 Day YouTube and will teach you how to make entertaining videos & animated GIFs.