(Last Updated On: May 21, 2020)
Pinterest links and social media marketing
Pinterest has a half life 1600 times longer than a Facebook post.  Pins are 100 times more viral than a tweet.  Cosmetics company Sephora has said that its Pinterest users spend 15 times more money on its products than its Facebook followers.  In other words,  Pinterest can be an important part of your social media marketing.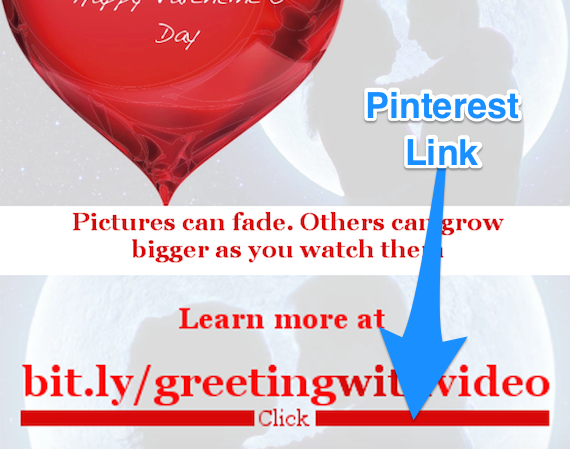 It is important to learn how to make Pinterest pins and Pinterest Links.  Months after you make a Pinterest graphic, people can be clicking on it and linking back to your web page.
Create Pinterest links in 7 steps
1. Make sure the Pinterest image is on the web page to which you wish to link.
2.
Hover over it, click the red Pinterest button in the upper right-hand corner and add it to the appropriate board.  (Note that it may be a few minutes before the image actually shows up on your board.)
3. Find that image on one of your Pinterest boards.
4. Hover over the image.
5. Click on the pencil icon.
6. In the box beside "website", add the URL of the page to which you wish to link.
7. Click the save button.
Now, when visitors click on your pin, they will see a button taking them to your web page.  See the infographic below the YouTube video to find the picture corresponding to each of these 7 points.
YouTube video
Infographic illustrating the points above

SlideShare presentation



We put a great deal of effort into each blog post.  Please use the comments box to tell us how we are doing.  How could we improve our blog posts?  Do you find these blog posts useful?

---
Peter Enns has been developing websites since 1996. He is a social media blogger and author of a free YouTube tutorial. It's called 7 Day YouTube and will teach you how to make entertaining videos & animated GIFs.