(Last Updated On: December 23, 2022)
Creating a brand new website

In a nutshell, this post will tell you how to make a brand new WordPress website. In this example it will have:
* A home page
* A contact us page with a Google Map
* Local optimization to put you on Google's page 1
* Two business email addresses that link to your regular address.  E.g., Sales@myamazingwebsite.com & Info@myamazingwebsite.com
* An About Us page.
What if you start reading this over and you don't want to do it yourself? Well, go to Kelowna Virtual Assistant and find out how we can do it for you.
How to set up the entire WordPress website in 11 steps
1.

Web host
Since I started creating websites in 1996, I've used many different web hosts. My very favourite one has been LiquidNet Ltd Hosting. They have amazing tech support and have been able to help me with practically any problem I've had. Besides that, they make it easy to set up a WordPress website.
You probably need no more than the starter package. It is only $35 (USD) per year.
2.

Domain name
Choose domain name that helps brand your business. For instance, IBM has ibm.com, Kelowna Virtual Assistant has kelownavirtualassistant.com and CNN has cnn.com.
This post will help you decide upon the ideal domain name for your business.
3.

Buy & register your domain
My very favourite place for buying & registering domain names is WhoIs.com. Go there as soon as you have decided upon your domain name. Click on Login to create an account.
You will have to change the DNS settings to supremedns1 & supermedns2. Go here now to find out how to do that.
4.

Set up WordPress
Before setting up WordPress, go to My Domains > Hosted Domains. Click the white on black Host Domain button. Add your new domain name to the Domain box. Click Add a Host.
Go to this blog post to see how to add WordPress to a LiquidNet Ltd Hosting website.
5.

Home Page
If you followed the instructions in the previous paragraph, you should have a home page. To edit it, click on edit from ANY page in your new website. On the left-hand side, you will see a black column called the Dashboard. Click on Pages > All Pages.
If you scan through the pages, you will see one called Home. Click the Edit link to make changes.
It is important that the Home page be attractive and informative. That is often where visitors go to find more information about your business.
6.

WordPress plugins
WordPress plugins are bits of software that can be uploaded to make WordPress more powerful. After you have finished your initial WordPress website, you really should click on that link and then learn about the most important plugins. Make sure you have them.
7.

Contact Us form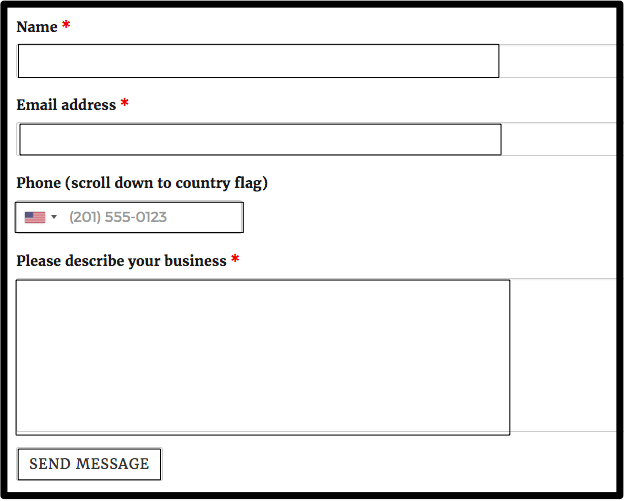 Of all the WordPress Contact Us forms I've ever used, Caldera Forms is my favourite plugin. Using the instructions from the above paragraph, go to the Plugins link in your dashboard and install & activate Caldera Forms.
Then go to Pages > Add New and add a new page called Contact Us. Using these instructions, add a Contact Us form to that new page.
8. Google Map
Go to this Google Maps page and add a Google map to your Contact Us page. Make sure there is a pin at the address of your business.
9.

Google p.1 with Local Listing
Local Listing means that you can often get on Google p.1 if you have a Google Map and set up Google My Business properly. Learn more on the Google My Business blog post.
10.

Specialized email addresses
You may want to have specialized email address similar to info@myamazingbusiness.com. Say you want to have it forward to your personal email address. Your business card can have info@myamazingbusiness.com. You do not have to have your personal email address on your business card. This is how to do it:
Log into your LiquidNet Ltd Hosting account
Click on Email tab > Mailboxes
Over to the right click on Create a New Email Account
Use the dropdown box to scroll down to your domain name
Add info, sales, your name or anything you want
Fill in the forwarding information. Add your personal email address or whatever address you want the email forwarded to.
11.

About Us page
To add your About Us page, click on New just to the left of View Page. For New you have 5 choices. Select Page.
The rest should be intuitive. Make sure you give a little bit about your history and what you might do to give a benefit to the visitor. Include pictures that promote your business.
Too time consuming?
After going through this blog post, you may decided that you are not prepared to spend the time learning all of this. That's reasonable. Simply go to Kelowna Virtual Assistant and find out how we can create your WordPress website for you.