(Last Updated On: September 6, 2019)
 Adding a second Twitter account

Are you blogging about a brand new subject? You want your Twitter account to link to that blog.  So, get a second Twitter account for the new topic.
Setting up your new account in 7 steps
Follow the steps below to get your second (or third, etc.) account.  The account does not even have to be owned by a person.

1. Go to Twitter.com.
2. Click on your profile picture to log out of your Twitter a/c.
3. Follow the prescribed procedure for creating a new account.

4. Click on the Twitter logo in the upper left-hand corner.
5. Make sure you use an email address  you've never used before with Twitter.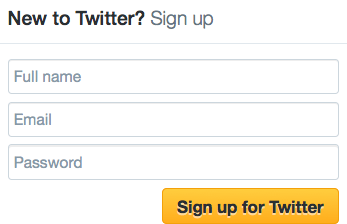 6. Get unique username and passwords.
7. Decide what you will use for a profile picture.  It does not have to be you. Write down your username, password (preferably cryptically) and email address in an easy-to-remember place. You're done.  Your new Twitter account has been set up.
P.S. Always remember to log out of one Twitter account before using a different account. Otherwise, you post could go into the wrong account.
Related websites
Earn a percentage of the selling price for every book sold.
One minute video
In the Steps to Success YouTube account, Sue Tamani has a very short video for you. She says
Just follow my three steps to opening a new Twitter account. You can follow the steps over and over for more accounts.  Watch the video.
2nd Twitter account to iPhone
The showhow2.com website tells how to add a second account to your iPhone.  About the video, they say
shows you how to add another twitter account on your phone. It makes complex technologies easy to understand and products simple to use. Now Everything is Easy.  Watch video now.
How to create a new account
---
Peter Enns has been developing websites since 1996. He is a social media blogger and author of a free YouTube tutorial. It's called 7 Day YouTube and will teach you how to make entertaining videos & animated GIFs.