(Last Updated On: July 4, 2017)
Where have you gone Joe DiMaggio?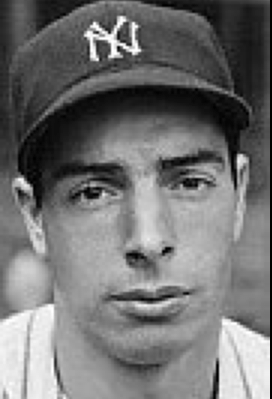 Joe DiMaggio was the New York Yankee who had 56 base hits in a row.
He was immortalized by writer Paul Simon in the song Mrs. Robinson.  Joe DiMaggio was on record as saying he had no idea why his name was in the song.
"I happened to be in a restaurant and there he [Joe DiMaggio] was," recalls [Paul] Simon. "I gathered up my nerve to go over and introduce myself and say, 'Hi, I'm the guy that wrote "Mrs. Robinson," ' and he said 'Yeah, sit down . . . why'd you say that? I'm here, everyone knows I'm here.' I said, 'I don't mean it that way — I mean, where are these great heroes now?' He was flattered once he understood that it was meant to be flattering."
When Simon met Mickey Mantle on "The Dick Cavett Show," the Mick asked him why he didn't use his name instead of DiMaggio's. "Wrong amount of syllables," Simon told the Yankee star.

A base hit is credited to a batter when the batter safely reaches first base after hitting the ball into fair territory.
 Steve Jobs 2005 Stanford Commencement Address
---
Peter Enns has been developing websites since 1996. He is a social media blogger and author of the free YouTube video-creation tutorial called 7 Day YouTube.