(Last Updated On: September 6, 2019)
8 different social media sites

This web page is about marketing using 8 different social media sites — SlideShare, Google Plus, Facebook, Twitter, YouTube, Pinterest, LinkedIn and a blog.
In the examples given, each social media site is being used to promote the same product — Perfect Uninstaller.  That program is an uninstall tool designed to remove unwanted programs from Windows computers.
The idea behind having EIGHT different social media sites is to increase the probability that one of the 8 will result in a sale.  The more social media that are correctly used, the higher the probability of making more sales.
Pinterest

The beauty of Pinterest for business is that your Pinterest graphic can gain more visibility over time.  Of all the social media sites discussed here, Pinterest is probably the best at sending traffic to your website months after it was first posted.
If you hover over the picture of the Perfect Uninstaller box in the pin, you will see a little graphic that says "pin it".  When people click on that, they can add the pin to any one of their Pinterest boards.  (The "pin" is the entire 1800 pixel long graphic.)
To get started with Pinterest, go to the first Pinterest blog post on this website.  After that you can go up to the blog tab in the horizontal menu.  Hover over it to find the other entries about Pinterest.
Earn a percentage of the selling price for every book sold.
SlideShare
With this presentation software, you can create a group of slides like the one you see in this sample.  Starting with the fourth slide, you can have hyperlinks to the page of your choice.
Go to this SlideShare blog post to help you get started with SlideShare.  Hover over the blog tab at the top of the page in order to find more SlideShare blog posts.
YouTube
This website is full of information on how to make better YouTube videos.  You can go to the YouTube link in the horizontal menu and find a complete YouTube video-creation tutorial.
If you hover over the blog tab and scroll down to YouTube, you can find lots of little tricks for making your videos more effective.
Watch the YouTube video promoting Perfect Uninstaller.

Facebook
You can have special Facebook pages relating to the various things you are trying to promote.  I have a page to promote social media marketing.
Of all the social media sites, Facebook is the most popular.
I chose that page as the best place to promote Perfect Uninstaller.  My post is in the image on the right. Notice that I used a Bitly address to make the post more meaningful.
You can find my post on the social media marketing page from Feb.19/16.
Twitter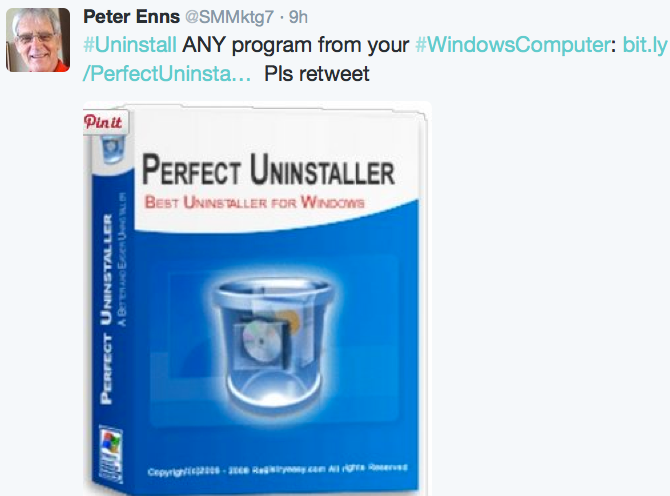 The image to the right is the Twitter post you will find on my Twitter site from June 23/16.  Notice how, in order to not have duplicate content, I made sure the wording was different from my Facebook post.
To find many tricks for using about using Twitter, hover over this web page's blog link on the horizontal menu and scroll down to the Twitter collection.
Google Plus
Google Plus posts can be much longer than your Twitter posts.  Note that they should be worded differently from the corresponding Facebook post.
Also note that my Feb.23/16 Google+ post is about Perfect Uninstaller.
 Blog
Any of my social media marketing campaigns will revolve around a blog post.  That will be done first.  Then the other social media will somehow relate to it.
This web page is a blog post giving a reasonably good description of Perfect Uninstaller.  It had a link telling how to download it.  Then it had a number of testimonials from happy Perfect Installer users.
It also had 7 different social media linking to it.
LinkedIn
For the last social media site, consider LinkedIn.  You can go to your LinkedIn home page and click on the "publish a post" button.  Get some eye-catching pictures and write a high quality post about the product you are trying to promote.
Don't make it look too much like an ad.  If you do, you may just turn your audience off.  If you go to my LinkedIn post, you will notice that I offered a free trial offer rather than telling people I wanted to sell them something.
To learn more about LinkedIn, see my What is LinkedIn? article.  You can also hover over the blog tab above and scroll down to the list of LinkedIn blog posts.


YouTube video

Let YouTube teach you about Perfect Uninstaller in less than 2 minutes.
---
Peter Enns has been developing websites since 1996. He is a social media blogger and author of the free YouTube video-creation tutorial called 7 Day YouTube.