Saved by Wistia!
Being the marketing guy in our business, I decided to create a large number of promotional videos and post them to YouTube.  Then YouTube made a policy change that changed the way I use YouTube.  They decided that after a video was played, links to 9 different related videos would show up.  That means that for most of my videos, I would be advertising for my competition.  Saved by Wistia!
Gaining valuable video viewer information
The Media Post website says
Wistia provides a video hosting and analytics platform that empowers marketers to track Web video viewers and rate their level of engagement. [You] can measure the success of an individual's viewing session, as well as gain valuable customer insights including geographic location, organization and IP address.  Read more.
Earn a percentage of the selling price for every book sold.
Video is replacing old social media tactics
The Business to Community website says
Not only will video swallow up 69% of consumer internet traffic by next year, but watching videos about products is four times more popular than reading about them. And here's the doozy: 25% of consumers will lose interest in your brand if it doesn't have video.
Read more
.
Why Wistia when we have YouTube???
What's the point of paying for a video hosting service like Wistia when YouTube is free?! YouTube is the world's biggest video platform, it has 1 billion users per month, and it's owned by Google, so it must be good for SEO, right?
Why on earth would anyone use Wistia for their marketing videos? Allow me…   Read more.
How to get started with Wistia

Click here
Sign up and give an email address and password
Click on Actions > New Project
Click on the tiny Edit button beside Untitled Project
Change the name to reflect the related videos you intend to upload
Open up your video in ScreenFlow

As soon as your video is ready to publish, click on File > Publish to > Wistia

Wait an hour or two and log into your Wistia account
Click the Projects tab and then click the video which with you wish to work
Click on Video Actions > Embed & Share
Copy the embed code into your clipboard
Paste your code into you page in WordPress.
The importance of switching to Wistia

I have been creating YouTube videos for LaserPhoto.ca.  They laser engrave photos onto granite, marble, glass or a dog tag.  The picture on the left was in one of the videos.
Immediately after the YouTube video stopped playing, the competition's video started.  They showed the laser etching on things including the back of a guitar.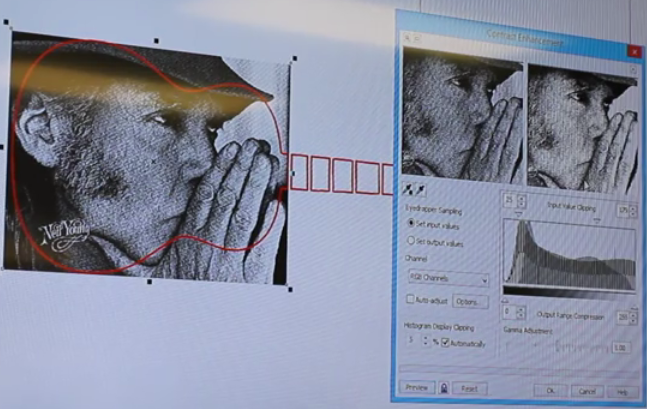 That was something that would create more interest than what LaserPhoto.ca had.  It is definitely time to switch to Wistia.
(The next blog post explains how to create a Wistia video from a YouTube video.)
---
Peter Enns has been developing websites since 1996. He is a social media blogger and author of a free YouTube tutorial. It's called 7 Day YouTube and will teach you how to make entertaining videos & animated GIFs.