How to use your free stock photos
Go to the freeimages website (

freeimages.com

) and sign up for a

free account

Think about the

category

of high resolution images you want

Enter it in the

search box
How to download free stock photos
Suppose you wanted a stock photo of a dog

Enter dogs in the

search box

Many hundreds of pictures of dogs

80% of the pictures

free

20% of them have a price

That's how freeimages makes their money

Pictures with a price tag can be as cheap as $1.
More specific

Picture of a Dalmatian dog

Enter

Dalmatian

in the search box

Several dozen stock photos of Dalmatians.
After you see a

thumbnail

of a Dalmatian picture you want,

click

on it

Gives you a page with a

larger picture

and a

download

button

.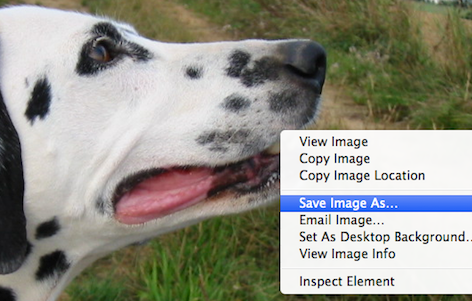 Clicking

on the download  button gives a

large image

To save it in computer,

right clic

k and select

Save image as

.
This service dependent upon members sharing photos

So, if you become a member, upload some of your best photos

Let other members use them as royalty free images
High resolution and stock photos

One minor problem with high resolution images is the size
Just PART of it may occupy entire computer screen.
I solved that stock photography problem with Skitch
Look at the stock photo in Finder
Expand the finder as much as possible
Capture it with Skitch
Save with a descriptive name.
My photo is never too large now.