What Google AdSense does
Easy-to-achieve online advertising
Allows website developers to place
automatic text, image, video, or interactive media advertisements on their websites
Ads targeted to the website content and audience.
PPC means Pay Per Click
Web developer gets 68% of ad cost each time a visitor clicks on them
Which ads go where?

Google decides where to place ad
Based on content, geographical location and other factors
Above is a PPC banner ad
It is related to page content
Webmaster's obligations
Insert snippet of Javascript code on page
Google gives that code
Google will not allow using phrases like "click on my ad"
Webmaster may intersperse content with RELATED high value long-tail keywords
However, be careful when using keywords
High suggested bid keywords result in more valuable ads
Watch YouTube video below entitled How to Increase Your AdSense Earnings in Four Days

A good system for increasing online advertising revenue

Watch videos on this page and take good notes
Getting started with Google Ad Words
Some people make lots of money advertising with Google Adsense
Some people make much less than they were hoping for
People who make more money with this online advertising tool are the ones who

Do their research
Form a plan and then
Follow it

Start your research by watching the YouTube videos below

Study the text and videos on this page
Create content that

Sounds natural
Has high volume long-tail keywords
Has long-tail keywords with high suggested bid
Google AdSense Ads into Income Activator

Go to the tabs at the top of your Income Activator page
The tab on the left says Page Content
Below that are the tabs in the illustration
Click on tab that says Page Ads & AdSense
Happy online advertising!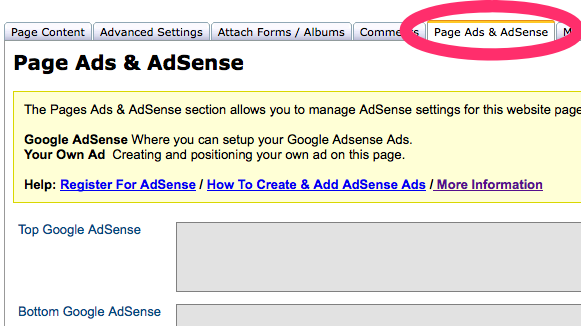 WARNING
A LinkedIn post says: Exact-match anchor links are outbound links which use primary keywords as their clickable element. So, if I was placing multiple links for a diamond retailer and wanted to try and manipulate
Google, I could use buy diamonds online as link anchor text.
Websites have been penalised for holding large portions of exact-match anchors. Never create an artificial-looking link profile.